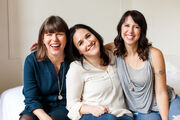 The Upside-Down Magic series is written by Sarah Mlynowski, Lauren Myracle, and Emily Jenkins.
Sarah Mlynowski
Edit
Sarah lives in New York City, though she was born in Montreal, Quebec, Canada. She has written adult fiction, young adult novels, and middle-grade fiction, including the Whatever After series. 
Lauren Myracle
Edit
Lauren is a writer of young adult fiction. Her books include The Winnie Years, starting with Eleven, and The Life of Ty. 
Emily Jenkins
Edit
Emily is an author of childrens' picture books and young-adult fiction.